---
Viola & the Brakemen (V&tB) is a band established in 2012 by singer\songwriter Brian White from Tucson, AZ. Viola & the Brakemen's musical styles are ever-changing to fulfill the sounds heard in Brian's head. These writings began in 1987 and continue on today, tomorrow and forever.
V&tB has played in multiple festivals including Pickin in the Pines Bluegrass Festival, Flagstaff's Hullabaloo, The Cornucopia Festival, the Flagstaff Folk Festival, Made in the Shade Beer festival, Yavapai College's Welcome Back Festival, New Mexico's Road to Rich's Festival and they have shared the stage with artists such as Ricky Skaggs, Steep Canyon Rangers, Calexico, The Infamous String Dusters, The Kitchen Dwellers, The Railsplitters, Michael Foucault and L.A.'s Rose's Pawn Shop.
Thank you for a successful album release party y'all! Follow the Spotify link to hear are new album now!
---
---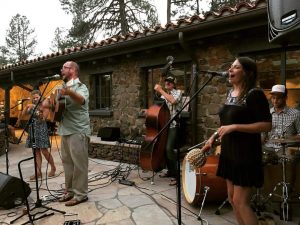 Viola & the Brakemen at The Museum of Northern Arizona, Flagstaff, AZ (2016)
---
Son of Brian White, Jackie Allen White plays with his dad at a local Farmer's Market. Song: Farm Living by Brian White
---
As We Evolve pt. 1 (Song: When You Would Say by Brian White) See the Full Video Here
---
As We Evolve pt. 2 (Song: Summer's Holiday by Brian White) See the Full Video Here
---
Thrown stone skipped pond it's all rippled free
Swans in flight burning lights all over green
Oceans pull the poles in time will bring
Clouds that paint pictures over the sea
Verse from "Black Country Woman" by Brian White