Viola & the Brakemen is a band established in 2012 by singer\songwriter Brian White from Tucson, AZ.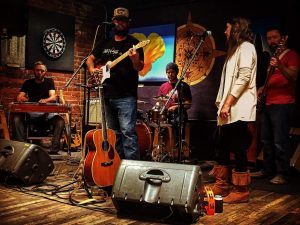 Brian White began writing when he was 13-years-old after being directed to "journal" by his English teacher in junior high for what she felt would help his obvious anxiety. Viola and The Brakemen began in 2012 and has had a multitude of musicians play in the band – these influencers have helped shape Brian's songwriting today!
Always and forever Viola & The Brakemen is Matt Robinson (Voluntary String Band), Steve Geise (Lively Hood), Jessica Ludwig (Empty Spaces and Lunchbox), songwriter Michael Hull (Curbside Rescue, Sundowners, and Lunchbox) and Matthew Tress (Critical Roots and Truck Stop Gravy) and our focus is creating music.
"7 to Eleven When You Are Live (Live Studio Cuts w/ Viola & the Brakemen)"
---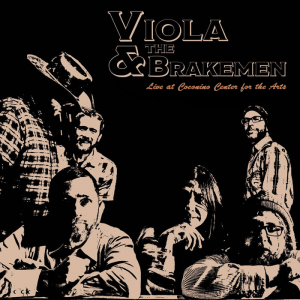 ---
"Viola & the Brakemen bring a sensational mix of original music written by Brian White and inspired by the Southwest."
………………………………………………………………………………………………………
Viola & the Brakemen: the Life I Always Sing ~Voted "Best Debut Album for 2017" by flagstaff LiVE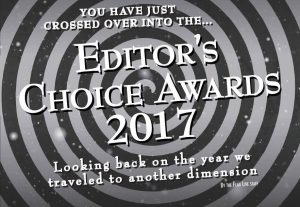 ~Arizona Daily Sun
https://azdailysun.com/flaglive/cover_story/editor-s-choice-awards/article_dc55fc2f-21f9-5bc4-964e-5277c6d80f96.html
………………………………………………………………………………………………………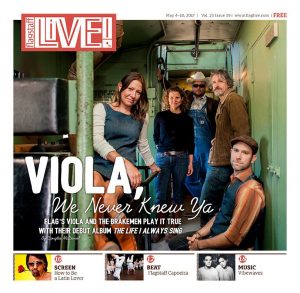 "The off-the-grid melodies of country-porch, hippies out in the woods playing Marshall Tucker songs, and yes, all of those references to Oak Creek and mid-Western farm life, it comes at you in surprising ways."
~Douglas McDaniel
https://azdailysun.com/flaglive/cover_story/viola-we-never-knew-ya-flag-s-viola-and-the/article_5676221b-2960-5380-ba17-8bec873ed126.html
………………………………………………………………………………………………………

"Veterans of many local festivals such as Pickin' In The Pines and Hullabaloo, their acclaimed live performances are vibrant and engaging."
~Beverly Napalm, the Noise: Arts & News
http://thenoise.us/editions/052017w.pdf
---
Son of Brian White, Jackie Allen White plays with his dad at a local Farmer's Market. Song: Farm Living by Brian White
---
As We Evolve pt. 1 (Song: When You Would Say by Brian White, from the album the Sundown Singles) See the Full Video Here
---
As We Evolve pt. 2 (Song: Summer's Holiday by Brian White, from his self-title album) See the Full Video Here
---
Thrown stone skipped pond it's all rippled free
Swans in flight burning lights all over green
Oceans pull the poles in time will bring
Clouds that paint pictures over the sea
Verse from "Black Country Woman" by Brian White